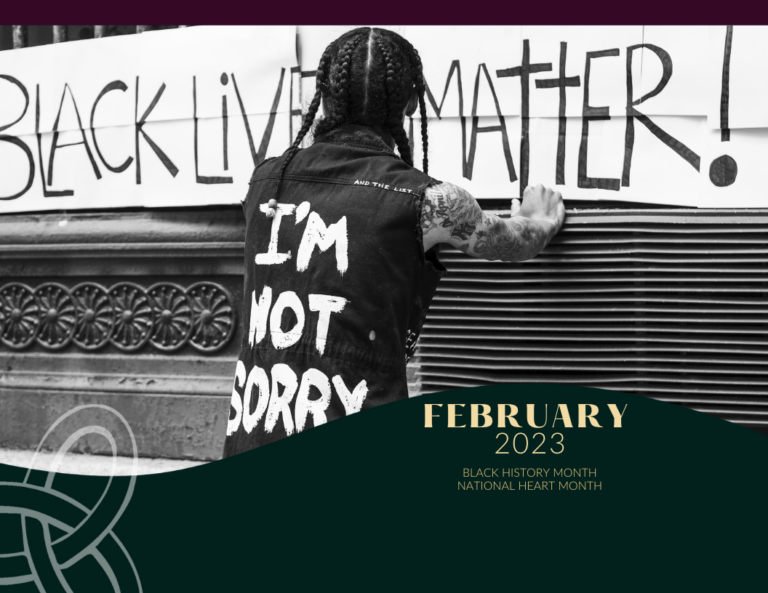 American Heart Month
Heart disease is the number one cause of death for most groups. February, we encourage all people to gain knowledge on how to keep their hearts healthy and start developing those habits now to manage the risk factors such as cholesterol, blood pressure, and more.
Observance Suggestion: Offer up incentives and benefits for acts that will keep employees' hearts healthy. Things like gym membership reimbursements, cholesterol tests, and healthy grocery delivery service can all play a part in keeping hearts healthy.
Black History Month
This month is a chance to learn the details of Black history that are far too often ignored or neglected. Black folks have endured a lot in American history, and to this day, their stories of struggle continue. This is the time to learn about what's happened in the past and how to continue to address it appropriately and head strong now.
Observance Suggestion: Take a look at your list of supply vendors. Are there Black owners involved in your list of suppliers? Also consider if there is room on your organization's platform to uplift Black owned businesses. Could you give them space to talk to your clientel? Could you encourage the people who work with you to also work with Black owned businesses?
February 1 – National Freedom Day 
United States Citizens have many freedoms that should never be taken for granted. The freedom to vote, pray, for speech, and freedom from slavery are all a part of what we celebrate today. National Freedom Day is all about celebrating the freedoms we have now, and those we will have in the future, even if it's the freedom to say you're not happy with the way things run now.
Celebration Suggestion: Host a discussion about the freedoms people in your organization have. Chances are, employees will define freedom in various ways. Hearing what each person values as their own freedom will help to create a culture where those freedoms are valued and respected.
February 4 — Rosa Parks Day
This day is in remembrance of Rosa Parks, a major influential Civil rights activist. She is an inspiration to all, especially those who continue to activate for modern day civil rights across the country. Today, many communities host events to include government leaders, not only her most famous act (not giving up her seat on the bus) but also all of her contributions to equality.
Celebration Suggestion: Get involved with your local government and ask about how you can help advocate for civil rights in the spirit of Rosa Parks.
February 14 — Safer Internet Day
The internet is an amazing tool and resource. We can learn almost anything with a simple Google search. We can connect easier with people regardless of where they live. We can shop for anything, play games, and catch up on any television or movie. But it can also be an incredibly dangerous place fully of phishing schemes, hackers, and cat phishing. Today, we encourage everyone to learn more about how the internet continues to evolve so you can learn how to keep yourself and your family safe online.
Observance Suggestion: Hire an internet safety expert to do a workshop with your teams. Learn how current technology is evolving for both good and bad internet use. Discover the tricks deceitful people are using to get information that could harm you while in their hands.
February 14 – Valentine's Day
Candy, hearts, and all the love, Valentine's Day is known as the most romantic holiday of the year. People everywhere use this day to get engaged, have amazing date nights, and shower their significant others with as much love as possible.
Celebration Suggestion: Today, ask people within your organization what kind of acts make them feel loved and recognized. You don't have to celebrate Valentine's Day showing romantic love to one person. Instead, use the tips your employees give to shower them with gestures that make them feel connected to you and your organization.
February 15 – Nirvana Day (Buddhist) 
Also known as Parinirvana Day, Nirvana Day commemorates the day Buddha achieved nirvana and passed away. According to Buddhism, Nirvana can only be attained by deeply understanding the Four Noble Truths.
Observance Suggestion: Offer up meditation time for your team members so they can reflect on their life and their own immortality. Understand that they believe life on Earth is temporary, but after nirvana and death, your story is immortal.
February 15 – International Childhood Cancer Day 
Every year, about 300,000 children under the age of 19 are diagnosed with cancer. This day is dedicated to the awareness of the variety of childhood cancers as well as support for the families who have been impacted by them. Early detection is key, and International Childhood Cancer Day hopes to educate on what that looks like to help save the lives of children worldwide.
Observance Suggestion: Send donations to organizations and hospitals who are dedicated to educating and helping families with childhood cancer.
February 18 – Maha Shivarati (Hindu)
This is a major Hindu festival that marks overcoming the dark spaces in life. Those who celebrate let go of their sins and make the promise to continue on a journey toward righteousness. Hindu people celebrate this sacred day with both enthusiasm and introspection.
Observance Suggestion: Understand that many Hindu people fast during Maha Shivarati with the exception of a few fast-compliant foods. Consider asking other employees to eat their meals, especially if they have meat, in a different area of the office out of respect to those who are fasting.
February 20 – World Day of Social Justice
As much as we've accomplished in the name of social justice, it's pretty clear that it's not the norm world-wide. People all over the world are being deprived of basic facilities, living without a roof over their heads, not having access to healthcare they need, education, meals, and so much more. This day is for privileged people to recognize these issues and take action to make social justice a reality for all.
Observance Suggestion: Survey your team members and align on an activity to advocate for social justice in your local community.
February 21 – Mardi Gras
Easily one of the biggest celebrations in the world, Mardi Gras or Fat Tuesday, represents the last day to eat fatty foods and/or meat before the Christian observance of Lent. Mardi Gras is full of rich foods, vibrant music, elaborate masks, and fun parties. People all over the world celebrate, but the festivities in New Orleans are most well known.
Celebration Suggestion: If your organization is known to come together around food, this is a great time to have a festive meal catered. 
February 22 – Ash Wednesday
Six weeks before Easter, this Christian holiday is all about fasting and prayer. This signifies their recognition of Christ's 40 day and 40 night fast. 
Observance Suggestion: Understand that some employees may not eat, or will eat very little. Minimize office activities centered around food and where possible, limit late afternoon meetings.