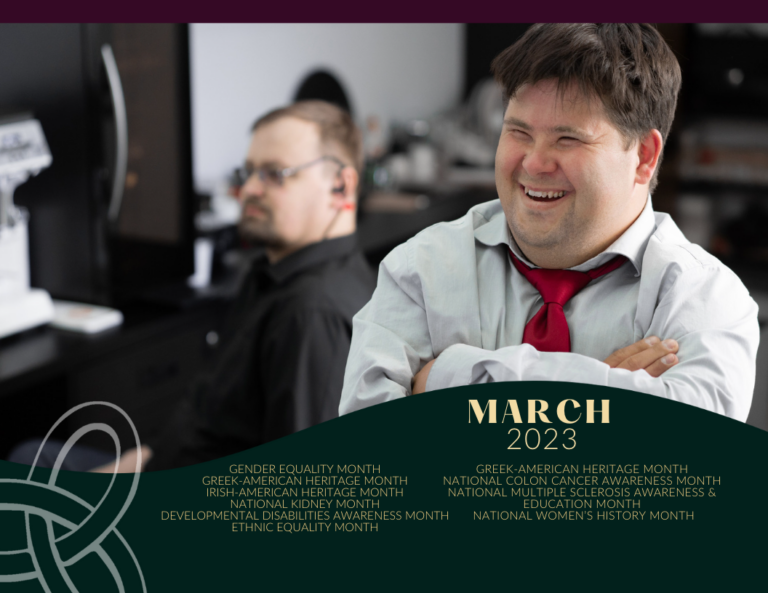 National Women's History Month

Too often, women's contributions end up being overshadowed or brushed aside. However, so many women have moved society and culture throughout history. This month is dedicated to honoring the determination and gifts women have shared with the world.
Celebration Suggestion: Honor the women in your organization. Celebrate their contributions that ripple down to everyone. Support them by providing scholarships for workshops, training sessions, and education that will keep them moving forward in their careers.
Developmental Disabilities Awareness Month
About 15% of people worldwide live with a developmental disability. The same people face barriers every day, preventing them from fully being included in the same opportunities other people have around them. Developmental Disabilities Awareness Month sheds light on the relationship between the way people function and how they're able to participate in the communities around them.
Observance Suggestion: Do some research on developmental disabilities, and learn about the different barriers people may face. Take that information into consideration within your organization. Can you find any barriers that might prevent a person with developmental disabilities to access the same opportunities as everyone else? Bring in a professional to help you bridge those gaps.
Ethnic Equality Month
Ethnic Equality Month is an opportunity for all of us to reflect on our own biases that exist in our societies. It's also an opportunity for us to decide how we want to make our space more equitable, for all. While recognizing the difference between ethnicities (beyond the physical) and celebrating what makes each ethnicity unique.
Celebration Suggestion: Hire a team to assess your organization's culture and find where those implicit biases are. Then, work to create a space where the gaps are filled and ethnicities are respected and appreciated.
Gender Equality Month
According to the United Nations Development Programme, about 90% of all people hold a bias against women. This is proof that gender equality is still not a reality, even though women hold an indispensable role in our societies. This month is all about raising awareness of this gender bias and celebrating women's contributions and achievements.
Celebration Suggestion: Host a workshop to teach your teams about gender biases, including the nuances they may not realize contribute to inequality. Ask your women employees to give suggestions on how to create a more inclusive space for them.
March 6-7 – Purim (Jewish)
The rough translation of purim is "lots," and this Jewish festival is full of lots. Lots of food. Lots of gifts. Lots of celebration of Jewish survival in history.
Celebration Suggestion: Join in on the tradition of gift-giving. During Purim, Jewish people give two generous gifts to the poor. Consider what kind of gifts would benefit the poor in your community. Or, donate to your local synagogue and they will use it to provide services for the community, too.
March 8 – International Women's Day (same every year)
Today is a celebration of all women and their achievements around the world. Women everywhere are impacting the way we shop, the way we communicate, they way we run our communities and influence our governments. Our societies are run by women, and this is the day to honor the value they contribute.
Celebration Suggestion: Take this opportunity to honor the women in your organization. Make it easy for them to have the day they deserve by giving them a paid day off to fill their schedule with as little or as much as they'd like. Perhaps offer a leadership development course or a workshop to level up in their careers.
March 8 – Holi (Hindu)
Holi is a Hindu festival to welcome Spring. It's seen as a new beginning where people can let go of whatever has been holding them back and start over. Many Hindus let loose during this time because they believe it's when the gods turn a blind eye. They cover themselves in colorful powder, dance in crowds and party in the streets.
Celebration Suggestion: Ask your Hindu workers how they're celebrating Holi with their family. If there is a festival nearby, see if you can join in on the fun. Participating first hand will give you the opportunity to fully understand how and why Hindu people celebrate.
March 9 – Asian American/Pacific Islander Women's Equal Pay Day
On average, most Asian American women as Pacific Islander women earn about 75 cents for every dollar of a white man. Some subgroups have a gap that is even larger. On May 3rd, 2022, the gap was finally catching up to where it should be. However, it's still not the case for everyone. Today, we recognize that the gaps still exist and we work to shining a light on what is keeping those gaps open.
Observance Suggestion: Ensure all your AANHPI women are getting paid the same amount as any white man for doing the same jobs. Consider setting up extra funds for them, too. Chances are, they may have missed out on income in the past and helping to compensate with what you can would show your dedication to making sure that gap stays closed.
March 17 – St. Patrick's Day
St. Paddy's Day, Saint Patties, St. Patrick's Day… whatever you call it, you probably already know it as the day everyone calls themselves Irish. Saint Patrick's Day is celebrated in more countries around the world than any other single day holiday and is filled with green clothing, shamrocks, and as colored beer.
Celebration Suggestion: Book space in a local Irish pub for people in your organization to have lunch/happy hour. Just remember to book it early to have space, and ensure the pub is as authentic as possible.
March 21 – National Harmony Day
Originally an Australian celebration, National Harmony Day is now recognized worldwide. This day is dedicated to bring unity to all people, regardless of what their diversities are. A world of peace and understanding between neighbors, coworkers, and community members is definitely a world Harmony Day is attempting to create.
Celebration Suggestion: Host a workshop to talk about the different diversities within your organization. Celebrate each individual thing that comes up to show your people that what makes them different in ethnicity, religion, gender, thoughts, background, etc, is the reason why you appreciate them being a part of your organization.
March 21 – World Down Syndrome Day
About 6,000 babies are both with down syndrome every year. This disorder occurs when there is a duplication of the 21st chromosome, which is why it lands on the 21st of March. This date is used to create awareness of the disorder and promote inclusivity so that those with down syndrome can have the support to participate in society without obstAcles in their way.
Observance Suggestion: Research events and charities near you and make a donation in your organization's name. Use your platforms to spread awareness of down syndrome and encourage your clients to do the same.
March 21-22 – Naw-Ruz (Baha'i New Year)
Translated, Naw-Ruz is Persian for "New Day." It's a Bahai holy day, observed with joy and optimism, as well as practice of their faith. There's no one way to celebrate, but many Baha'i people get together with their families to read scripture and share a meal.
Observation Suggestion: Because Naw-Ruz is a celebration of newness and thanks, plan a picnic for the people in your organization. Invite your workers to enjoy the Spring weather. Consider also giving them time after to do some office-spring cleaning so they can welcome in the new while saying goodbye to any clutter.
March 23 – Ramadan begins (Muslim)
Ramadan is the Muslim holy month of fasting. It marks the beginning of the Prophet Muhammad's mission, and is marked by prayer, fasting, and reciting the Quran.
Celebration Suggestion: Join in on the fasting, or, at least, make it easy for your Muslim workers to fast. Encourage non-Muslim employees to eat away from those who observe Ramadan .